\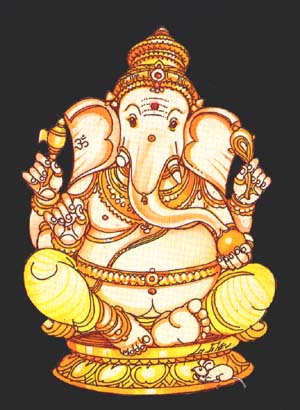 ATHI RUDRA JAPA HOMAM
&
SRI SATHA CHANDI HOMAM
at Sri Rathnagiriswarar Temple, Besant Nagar, Madras, India
22nd July - 1st August, 1999
Contact Address:
Sri Rathnagiriswarar Temple
Athi Rudram Committee,
6th Cross Street,
Besant Nagar,
Madras - 600 090.
Tamil Nadu,
India.
Phone : 91-44-491 0405
E-Mail : ksiva99@md3.vsnl.net.in
Our motherland, Bharata Khanta, is a Karma Bhoomi. The vedic tradition, the cultural richness, the unity in diversity and the peace loving people cannot be compared to any other country in the world. The Rishis and Maha-purushas made it a star, a crest-jewel in the crown of the Universe.
Originally, the Vedas - the collection of Mantras by various Rishis - were in single form. For the ease of handling, Sage Veda Vyasa codified it into four - Rig, Yajur, Sama and Atharvana. The Veda Mantras were drawn by the Rishis by their Tapas and imparted to their sishyas and sishya paramparas. The Vedas were not authored by any human personality - they were revealed to the Rishis by the Lord.
Sri Rudram, the prayer to Lord Siva, is perhaps the most popular and efficacious among the Vedic hymns. It occurs in the middle of the Taittiriya Samhita of Sri Krishna Yajur Veda (i.e.) in the 4th Kandam, 5th Prasnam, in 11 Anuvakas of 169 mantras in total. It speaks of Lord Siva's several forms, His omniscience, His omnipresence and omnipotence, in choice and sweet pada renderings.
Sri Rudram is a panacea for removal of the five maha pathakams (sins). Koorma Puranam, Linga Puranam and Hari Vamsam mention that Bhagwan Sri Krishna did penance chanting the Sri Rudram and Siva Panchaksharam several times for obtaining many boons from Lord Siva. Sri Rudram is great because it contains the holiest of the holy Panchakshara Mantra "Namas Sivaya."
Eleven forms of Lord Siva worshipped in Sri Rudra Yajnas are :
1. Mahadeva,
2. Siva,
3. Rudra,
4. Sankara,
5. Neelalohita,
6. Easana,
7. Vijaya,
8. Bhima,
9. Devadeva,
10. Bhavodhbhava and
11. Adityatmaka Rudra.

The five mukhas (faces) of Lord Siva are -

(1) Sadhyojatham (West);
(2) Vamadevam (North);
(3) Aghoram (South);
(4) Tatpurusham (East) and
(5) Easanam (Oordhvam - looking up).
Chanting of Sri Rudram is always followed by the 11 Anuvakams of Chamaka Prasnam found in the 7th Prasna in 4th Kandam of the Taittiriya Samhita of Sri Krishna Yajur Veda. It prays for abeeshtas (desirable ends), mostly required for leading a Vedic way of life.
The Rudra Prasna as well as chamaka prasna contain 11 paragraphs. We recite Rudram in multiples of eleven. If Rudra is recited 121 times (112) it is known as "Rudra Ekadasi". When chanted 1331 times (113) it is known as "Maharudra". When chanted 14641 times (114) it is known as ATHI RUDRAM. The Rithviks, who recite Sri Rudram are arranged in groups of eleven. Each group comprising of eleven, is called one "Gana". There will be eleven ganas comprising of 121 Rithviks reciting Sri Rudram for eleven days - each day eleven times, preceded by Mahanyasam.
Eleven Rithviks will be performing homam and each day there will be Poornahuti. On the concluding day, besides Poornahuti, Vasordhara will also be performed with recital of Chamaka Prasna fully.
With the blessings and grace of Their Holiness Sri Jayendra Saraswati Swamigal and Sri Sankara Vijayendra Saraswati Swamigal of Kanchi Kamakoti Peetam and Sri Bharathi Theertha Swamigal of Sringeri Sarada Peetam, we are planning to conduct this Athi Rudram from 22nd July to 1st August, 1999. Eminent Vedic scholars from different parts will be participating in the Athi Rudra Maha Yajnam. Bhahuyaji, Mahagnichit, Brahmasri Dr. P.S.Ananathanarayana Vajapeyayaji of Musiri has very kindly consented to be present during the Athi Rudram and guide the proceedings. Brahmasri Dhinakara Sarma of Kumbakonam will be Chief Acharya for the Athi Rudra Maha Yajnam in our temple.
Elaborate arrangements are being made to conduct the Athi Rudram in a unique manner for the benefit of humanity as a whole - for all round prosperity and peace.
It augurs well because the Athi Rudram is planned at the time when the country is passing through a difficult period. We need a lot of blessings to revitalise trade and economy, good friendship with neighbouring countries, amity and oneness of all the people and health and prosperity of all living beings.
With His grace, we are sure that all the Bhakthas of Sri Aralakesi Ambika sametha Sri Ratnagiriswara Parameswara will reap the fullest benefits through participation in the Athi Rudram.
Conducting Athi Rudra with religious sanctity and serenity invovles huge expenditure - to the tune of over 14 lakhs. Details of various expenditure are given in the annexure hereto. This is the first of its kind in Sri Rathnagiriswarar Temple since its inception. Sri Rathnagiriswarar - the presiding deity which was found in the sea-shore of Thiruvanmiyur as foretold by His Holiness Sri Chandrasekharendra Saraswathi Maha Swamigal of Kanchi Kamakoti Peetam and installed at the place where Hi Holiness Sri Abhinava Vidya Theertha Maha Swamigal of Sri Sringeri Sarada Peetam performed the pooja for the temple, is a powerful Lord, showering His grace and blessings on his innumerable devotees. This Athi Rudra Japa Homam will further enhance the temple's sanctity and power of the Lord.
In addition to Athi Rudra Maha Yajnam, we are also planning to conduct simultaneously "SATHA CHANDI HOMAM" with the help of eleven Sri Vidya Upasakas to make the Athi Rudra Homam more purposeful and poweful.
We appeal to you to participate in this unique ATHI RUDRA MAHA YAJNAM and contribute liberally to make it a grand success, reaping the fruits of this sacred and great venture.
Cheques/drafts may please be drawn in favour of
"SRI RATHNAGIRISWARAR TEMPLE ATHI RUDRAM COMMITTEE".
Please send your contributions to the following address :
Sri Rathnagiriswarar Temple Athi Rudram Committee,
6th Cross Street,
Besant Nagar,
Madras - 600 090
Tamil Nadu,
India.
Phone : 91-44-4910405
E-Mail : ksiva99@md3.vsnl.net.in

A.Kandaswami Pillai V. Venkataramani P. S. Ramakrishnan
Chairman Secretary Treasurer
| | | |
| --- | --- | --- |
| S.No. | Item | Amount (Rs.) |
| 01 | 11 Prathana Kalasam | 10,000 each |
| 02 | 110 Kalasams | 5,000 each |
| 03 | Rudra Homam | 10,000 per day |
| 04 | Sri Sathachandi Homam | 10,000 per day |
| 05 | Samaradhanai Expenses | 15,000 per day |
| 06 | Ghee for Homam | 2,000 per tin |
| 07 | Flowers | 30,000 |
| 08 | Vasthram (150 x 2 = 300) | 90,000 |
| 09 | Rithvik Sambhavana (150) | 7,000 each |
| 10 | Godhaanam (4 Nos.) | 10,000 each |