The Singapore Dakshina Bharatha Brahmana Sabha
thanks all members for their kind support and participation in
"CHANDI HOMAM"
held on Sunday October 13, 2002
at PGP Kalyana Mandapam Hall
(adjacent to Sri Perumal Temple, Serangoon Road)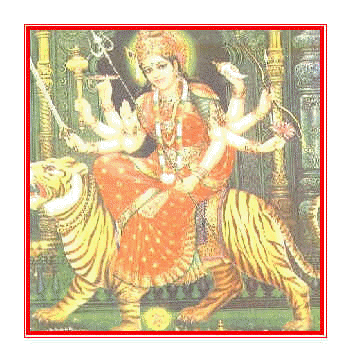 Your generous donations to meet the cost of various items for Homam and Poojas are gratefully acknowledged.
The Sabha would like to have your feedback on the organisation of the Chandi Homam. Please feel free to send in your valuable comments
Please click here for a snap shot of Chandi Homam 2002.
PROGRAMME DETAILS
| | |
| --- | --- |
| 8.00 AM | Vigneshwara Pooja |
| 8.15 AM | Sankalpam |
| 8.45 AM | Gada Stapanam / Japam |
| 9.15 AM | CHANDI HOMAM |
| 11.30 AM | Durga Sahasranaama Pooja |
| 12.15 PM | Suhasini / Kanya /Vaduka Pooja |
| 12.45 pm | Poornahuti |
| 1.15 PM | Deepaaradhanai / Distribution of Prasaadham / Lunch |
CHANDI (Durga) Homam is done in obeissance to Goddess Gurga Devi by reciting 'Devi Mahatmyam' and by offering oblations for each of the 700 verses of the Mahatmiyam known as Sapthasathi.
Bhuvaneshwari Samhita says that like the Vedas, Saptha Sathi is also Anadi Apourusheyam i.e., not composed by an individual and has been brought down by word of Sruti only. Such greatness is attributed to this Mahatmiyam that even Lord Vishnu is believed to have understood only 3/4, Lord /Shiva 1/2, and others only one part in 10000000. Sage Vyasa brought this to surface in the Markandeya Puraanam. It is believed that Chandi Homam would result in prosperity to both the country and the individuals and Devi would fulfil all the desires of the devotees.
In Chidambara Rahasiyam, Lord Shiva says to Paarvathi: "Hey Devi ! Those who recite Sapthasathi will be free from Dharidhram, will be free from all obstacles and will get all the prosperities". It is therefore believed that those who could take part in this event will get the blessings of Durga Devi and all their desires will get materialised.
Devi Mahathmiyam brings together the "Vedantic" Brahma Vidhya and the "Tantric" Sri Vidhya. The "OM" of Brahma Vidhya is the same of "HREEM" of Sri Vidhya. The "HREEM", the Maya Bheejam or the Bhuvaneshwari Bheejam (seed) is the source of Mahakali, Mahalakshmi and Mahasaraswathi. "Navashari" and "Sapthasathi" are the embodiments of the Bhuvaneshwari Bheejam. It is believed that among the Sthuthis, Sapthasathi stands supreme.
Sabha is organising this event in commemoration of its 75th anniversary celebrations. It is more befitting to conduct this Homam at a time when the Region is in a depressed state. Therefore, Devi's blessings are invoked for the benefit of the Nation, for the welfare ofthe community, and for World Peace.
Sarva Swarupe Sarvese Sarva Sakthi Samanvithe; Bhayebhyas Thrahino Devi Durge Devi Namosthuthey
which means
Salutations to Durga Devi, who is omnipotent and omnipresent And who is destroyer of fear, and may we be protected by You.
Reciting the above sloka as much as one can is considered very auspicious. May all the members get the blessings of Goddess Durga Devi.